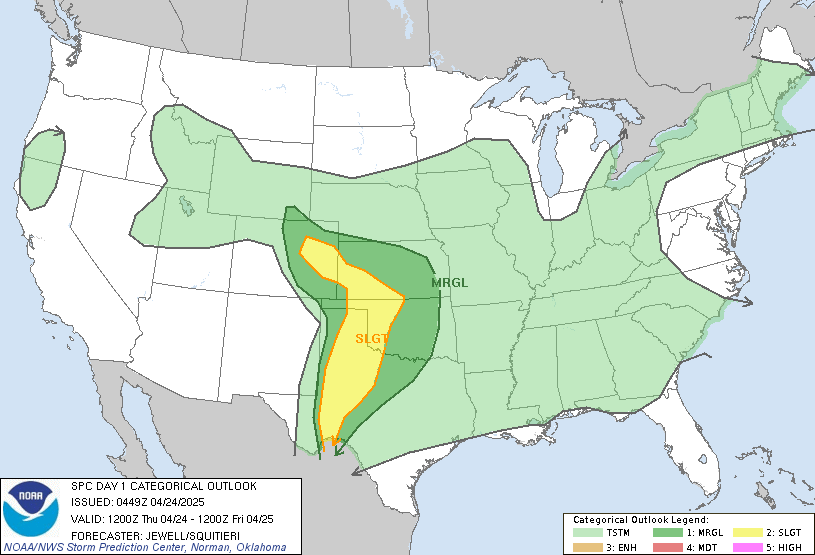 LIVE MAP (ABOVE) ... SPC 1300Z Day 1 Outlook
Day 1 Convective Outlook
NWS Storm Prediction Center Norman OK
0645 AM CST Mon Nov 06 2023
Valid 061300Z - 071200Z
...NO SEVERE THUNDERSTORM AREAS FORECAST...
...SUMMARY...
Severe thunderstorms are not forecast across the contiguous United
States through tonight.
...Synopsis...
A progressive upper-level flow regime will characterize the pattern
today/tonight across the northern half of the Lower 48 states.
Water-vapor imagery this morning shows a potent mid-level shortwave
trough over the Upper Great Lakes quickly moving east. This
disturbance will rotate through the base of a larger amplifying
trough centered over southeastern Canada during the period. Weak
elevated buoyancy (reference 12z Davenport, IA raob) atop a
cool/stable boundary layer will result in a forced band of
thunderstorms continuing east across mainly the northern 2/3rds of
Lower MI through early afternoon. Farther west, a mid-level trough
with a series of perturbations will move from the eastern Pacific
into the northwestern CONUS during the period. Scant buoyancy will
limit both storm coverage and intensity from the CA/OR/WA coast
inland into the northern Rockies. Elsewhere, quiescent conditions
will prevail across the CONUS.
..Smith.. 11/06/2023
Read more CHECK UPDATE ZOOM GRAPHIC
http://dlvr.it/SyS9NP