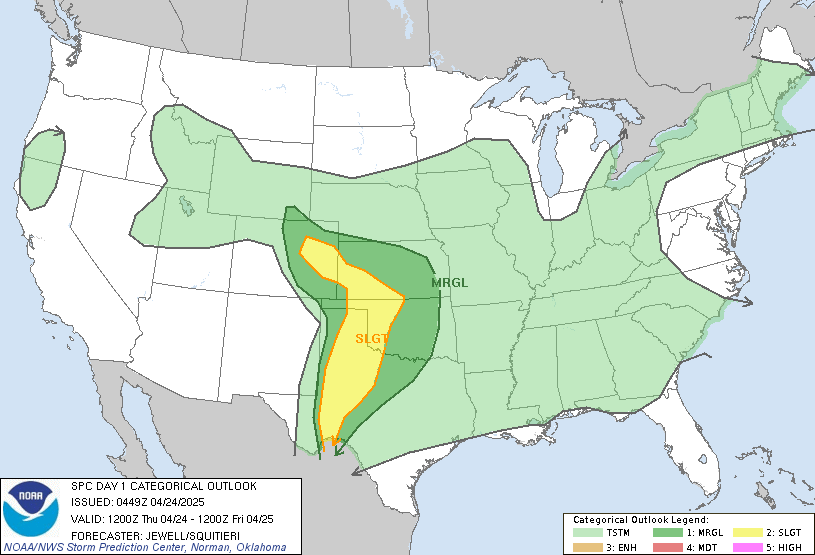 LIVE MAP (ABOVE) ... SPC 1200Z Day 1 Outlook
Day 1 Convective Outlook
NWS Storm Prediction Center Norman OK
1140 PM CST Sun Nov 05 2023
Valid 061200Z - 071200Z
...NO SEVERE THUNDERSTORM AREAS FORECAST...
...SUMMARY...
Isolated thunderstorms are possible from the Pacific Northwest into
parts of the northern Rockies, as well as over Lower Michigan.
...Discussion...
Severe thunderstorms are not forecast across the CONUS Monday;
although, lightning is expected with convection across a few areas,
namely the Pacific Northwest and Great Lakes region.
Strong upper trough will advance inland along the WA/OR/northern CA
Coast by 18z as a 500mb speed max translates across northern CA into
the Great Basin. Modest midlevel height falls will spread ahead of
this feature and lapse rates will steepen north of the jet such that
weak buoyancy will materialize from coastal portions of the
Northwest into the northern Rockies. A few flashes of lightning may
accompany weak convection north of the jet.
Downstream, a pronounced, fast-moving short-wave trough will eject
across WI into MI by late afternoon, then into the lower Great Lakes
by the end of the period. Strong LLJ will evolve ahead of this
feature and warm advection is expected to encourage elevated
convection within a zone of large-scale ascent. Forecast soundings
suggest parcels lifted near 850mb will yield around 500mb MUCAPE,
more than adequate for lightning with this activity.
..Darrow/Bentley.. 11/06/2023
Read more CHECK UPDATE ZOOM GRAPHIC
http://dlvr.it/SyRNND