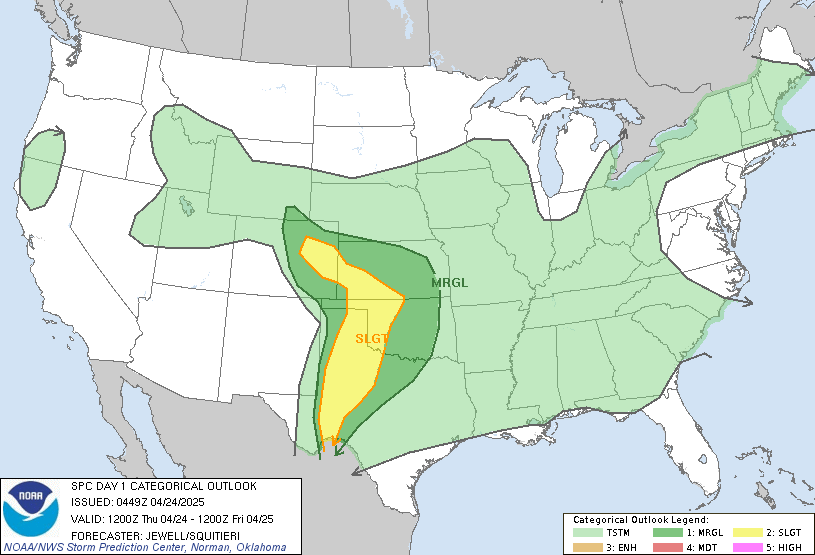 LIVE MAP (ABOVE) ... SPC 1200Z Day 1 Outlook
Day 1 Convective Outlook
NWS Storm Prediction Center Norman OK
1125 PM CST Thu Nov 09 2023
Valid 101200Z - 111200Z
...NO SEVERE THUNDERSTORM AREAS FORECAST...
...SUMMARY...
A low risk of lightning will be noted with convection along portions
of the western and central Gulf Coast, and over a small area of
southern New Mexico and far west Texas.
...Discussion...
The vast majority of the CONUS will remain lightning-free Friday as
meager moisture/buoyancy will reside across most regions. A few
exceptions are along the western/central Gulf Coast, and across
portions of southern NM and far west TX.
Broad southwesterly flow will continue at midlevels from the
southern Rockies into the middle Atlantic. Downstream confluent flow
will encourage surface pressure rises and high pressure across most
areas east of the Rockies. As a result, pronounced surface front
will advance off the south TX Coast very early in the period and
northeasterly low-level flow should strengthen over the central Gulf
Coast. While weak convection is expected to develop near this
frontal zone, many updrafts will remain too shallow/weak to produce
lightning. Even so, a few thunderstorms are expected, primarily off
the south TX Coast early in the period.
Upstream across southern NM/west TX, cooling midlevel temperatures
in association with an ejecting short-wave trough will steepen lapse
rates through mid day, then instability should wane as the trough
shifts east. A few flashes of lighting may be noted with weak
elevated convection early in the period.
..Darrow/Moore.. 11/10/2023
Read more CHECK UPDATE ZOOM GRAPHIC
http://dlvr.it/Syf3dS