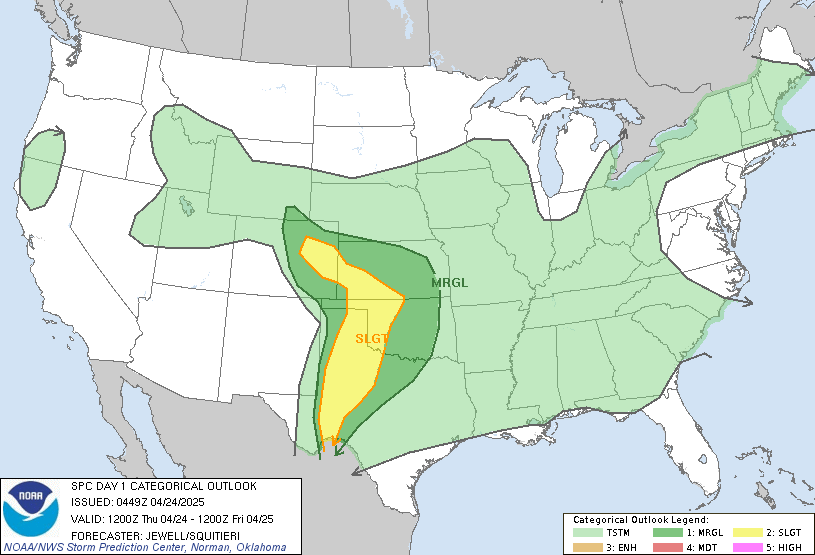 LIVE MAP (ABOVE) ... SPC 0100Z Day 1 Outlook
Day 1 Convective Outlook
NWS Storm Prediction Center Norman OK
0616 PM CST Sun Nov 05 2023
Valid 060100Z - 061200Z
...THERE IS A MARGINAL RISK OF SEVERE THUNDERSTORMS ALONG THE
PACIFIC NORTHWEST COAST...
...SUMMARY...
A brief tornado or two, isolated damaging winds, and small hail are
possible into tonight over parts of western Oregon and the far
northern California coast.
...01z Update...
Strong midlevel height falls will develop across much of the Pacific
Northwest into northern CA tonight ahead a pronounced short-wave
trough that will approach the coast around sunrise. 500mb jet is
forecast to gradually sag south across northern CA by the end of the
period which will allow lapse rates to steepen at lower latitudes
and permit deeper convection to evolve south along the northern CA
Coast later tonight.
Latest satellite imagery and lightning data suggest scattered
thunderstorms are approaching the WA/OR Coast early this evening.
Some organization has been noted with this activity about 60mi
west-northwest of Astoria OR, but gradual weakening is currently
observed. An arcing band of convection, roughly 90mi long, will move
onshore into southwest WA in the next hour. Gusty winds and small
hail should be the main threats with this activity along the coast.
Otherwise, cooling/steepening lapse rates will continue to support
renewed development ahead of the short wave through the overnight
hours.
..Darrow.. 11/06/2023
Read more CHECK UPDATE ZOOM GRAPHIC
http://dlvr.it/SyQypK