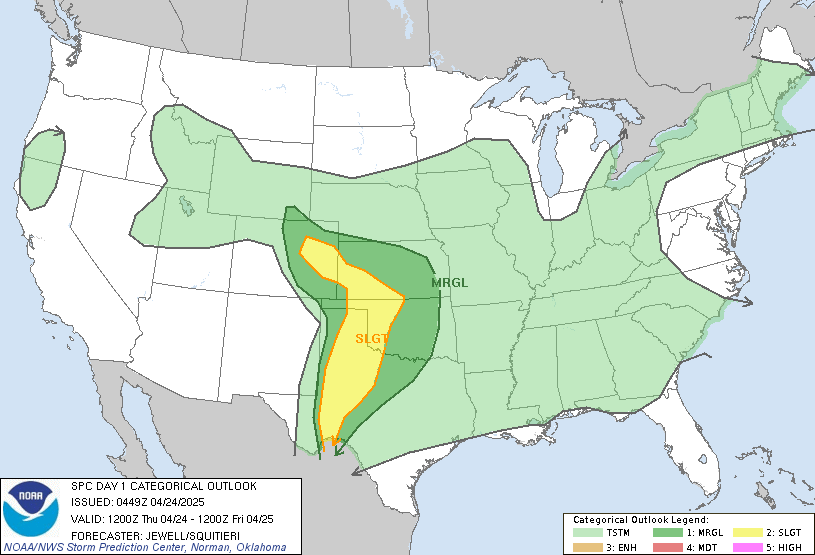 LIVE MAP (ABOVE) ... SPC 1630Z Day 1 Outlook
Day 1 Convective Outlook
NWS Storm Prediction Center Norman OK
1023 AM CST Sun Nov 05 2023
Valid 051630Z - 061200Z
...THERE IS A MARGINAL RISK OF SEVERE THUNDERSTORMS PARTS OF WESTERN
OR AND THE FAR NORTHERN CA COAST...
...SUMMARY...
A brief tornado or two, isolated damaging winds, and small hail will
be possible this afternoon into tonight over parts of western Oregon
and the far northern California coast.
...Western OR and far northern CA coast...
Minor expansion of the level 1 risk with this outlook as a
long-duration, low-probability tornado/wind threat remains apparent
beginning around midday. Observational imagery depicts a series of
embedded shortwave troughs moving generally eastward towards the
Pacific Northwest coast today into tonight, with relatively prolific
lightning production amid several convective clusters. A feed of
conditionally unstable low to mid-level lapse rates and meager
buoyancy (200-300 J/kg SBCAPE) will favor low-topped convection and
occasional lightning flashes over land this afternoon into tonight
as the waves progress inland. Low to mid-level wind profiles will
strengthen somewhat, yielding sufficient hodograph length and
low-level curvature for a few low-topped supercells. These cells
will be capable of producing a brief tornado or two, isolated strong
gusts, and small hail up to nickel size. The longest duration threat
should exist along the coast, mainly in OR with a gradual north to
south shift towards far northern CA tonight. The eastern extent of
the low-probability severe threat into parts of the Willamette
Valley should be confined from mid-afternoon to early evening.
..Grams/Wendt.. 11/05/2023
Read more CHECK UPDATE ZOOM GRAPHIC
http://dlvr.it/SyQZ2g