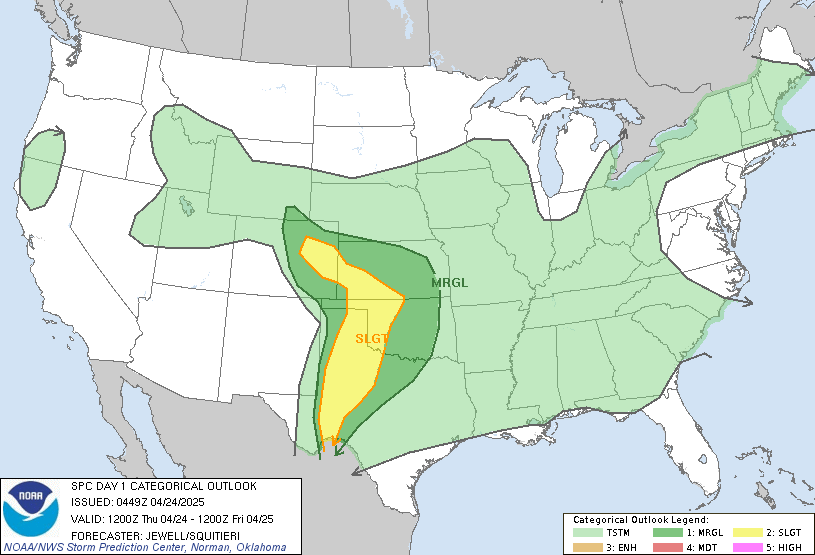 LIVE MAP (ABOVE) ... SPC 1300Z Day 1 Outlook
Day 1 Convective Outlook
NWS Storm Prediction Center Norman OK
0643 AM CST Sun Nov 05 2023
Valid 051300Z - 061200Z
...THERE IS A MARGINAL RISK OF SEVERE THUNDERSTORMS LATER THIS
AFTERNOON INTO TONIGHT ALONG THE OR AND EXTREME NORTHWEST CA
COASTS...
...SUMMARY...
Isolated wind damage and a tornado or two will be possible later
this afternoon into tonight along the Oregon and extreme northwest
California coasts.
...Synopsis...
A midlevel shortwave trough over the northern Rockies this morning
will progress eastward to the upper Great Lakes by Tuesday morning.
Though low-level moisture will be limited along the path of this
trough, relatively steep midlevel lapse rates and sufficient
midlevel moisture will support weak buoyancy rooted in the 850-700
mb layer (MUCAPE of 100-300 J/kg). Forcing for ascent in the left
exit region of the mid-upper jet could support some weak elevated
convection with isolated lightning flashes this evening near the
SD/ND border and overnight into WI. Lingering moisture/weak
buoyancy through the period could support isolated lightning flashes
across ID/southern MT and vicinity, per the 12z BOI sounding.
...OR/northwest CA coasts later this afternoon into tonight...
Water vapor imagery reveals a series of embedded shortwave troughs
moving generally eastward toward OR later today into tonight, with
multiple clusters of thunderstorms well offshore. A feed of
conditionally unstable low-midlevel lapse rates and weak buoyancy
(200-300 J/kg SBCAPE) will favor low-topped convection and
occasional lightning flashes this afternoon into tonight as the
waves progress inland, especially along the OR coast. Forecast wind
profiles show sufficient hodograph length and low-level curvature
for low-topped supercells with some potential to produce isolated
strong gusts and possibly a tornado or two.
..Thompson.. 11/05/2023
Read more CHECK UPDATE ZOOM GRAPHIC
http://dlvr.it/SyQ2NV