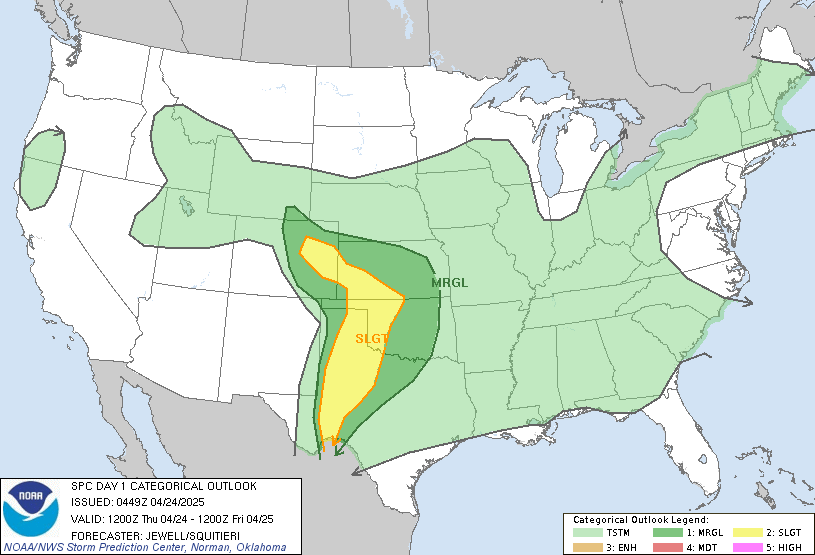 LIVE MAP (ABOVE) ... SPC 1200Z Day 1 Outlook
Day 1 Convective Outlook
NWS Storm Prediction Center Norman OK
1241 AM CDT Sun Nov 05 2023
Valid 051200Z - 061200Z
...NO SEVERE THUNDERSTORM AREAS FORECAST...
...SUMMARY...
Several rounds of scattered thunderstorms are expected across the
Pacific Northwest this afternoon through early Monday morning.
...Synopsis...
The upper-level ridge across the central CONUS will flatten through
the day on Sunday. Farther west, a mid-level trough will approach
the Pacific Northwest coast. At the surface, a surface low will
develop across the northern Plains in response to a shortwave moving
through the region. In addition, a surface low will develop off the
Oregon coast and approach the Pacific Northwest coastline near the
end of the period.
...Pacific Northwest Coast...
Temperatures will start to cool aloft by later this afternoon off
the Oregon coast. These cooling temperatures over the marine airmass
will result in an increase in thunderstorm activity during the
afternoon which will persist through the overnight period. Forecast
soundings show marginal instability (~250 J/kg MLCAPE) and strong
shear with some low-level turning. The most favorable period for
rotating updrafts and potentially some enhanced low-level rotation
is expected late in the period 06Z to 12Z when the surface low
approaches the coast. As this occurs, cooling temperatures aloft
should result in maximum instability with some backing surface winds
ahead of the approaching surface low. This pattern loosely matches
previous patterns which have resulted in tornadoes in the northern
California/Oregon coast environment. However, at this time, forecast
instability and low-level streamwise vorticity remains too limited
for a marginal risk along the coast.
..Bentley.. 11/05/2023
Read more CHECK UPDATE ZOOM GRAPHIC
http://dlvr.it/SyPYp3