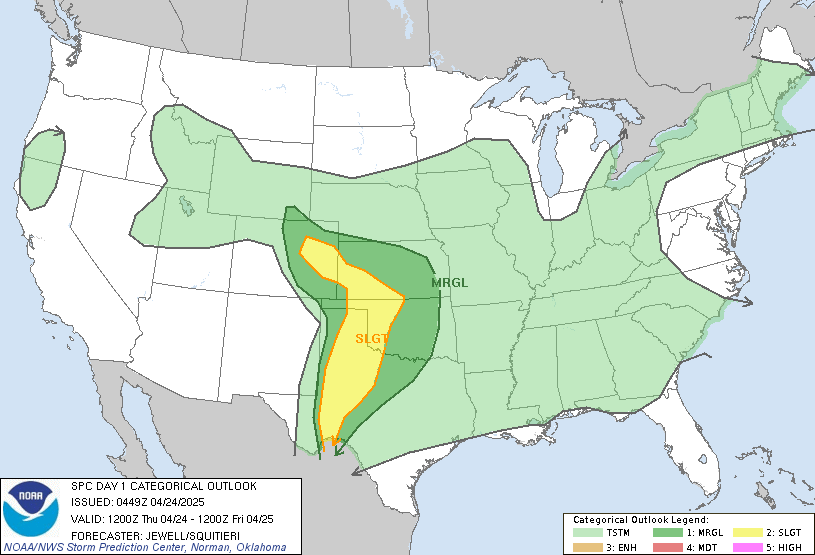 LIVE MAP (ABOVE) ... SPC 1200Z Day 1 Outlook
Day 1 Convective Outlook
NWS Storm Prediction Center Norman OK
1221 AM CDT Sat Nov 04 2023
Valid 041200Z - 051200Z
...NO SEVERE THUNDERSTORM AREAS FORECAST...
...SUMMARY...
Isolated thunderstorms are possible across parts of the Pacific
Northwest and south Florida.
...Pacific Northwest...
Strong midlevel height falls will develop across the northwestern
CONUS Saturday ahead of a pronounced short-wave trough that will
approach the WA/OR Coast during the evening. Weak elevated
convection may generate lightning ahead of the surface front within
the warm-advection regime. Otherwise, as profiles cool and lapse
rates steepen, weak buoyancy near the coast may prove adequate for a
flash or two of lightning within post-frontal environment. Isolated
thunderstorms may also be noted east of the Cascades in association
with weak frontal convection. Overall, thunderstorm activity will
prove quite sparse across this region Saturday.
...South Florida...
Weak low-latitude short-wave trough is digging east-southeast across
the central Gulf Basin. This feature will encourage higher-PW air
mass to advance a bit north into south FL. While the primary zone of
low-level confluence will remain just offshore, moistening profiles
and sustained weak warm advection suggest scattered convection
should evolve along the cool side of the boundary. Forecast
soundings for MIA are adequately buoyant for lightning production
within the deeper updrafts, and large-scale support ahead of the
short wave appears favorable for this scenario.
..Darrow/Bentley.. 11/04/2023
Read more CHECK UPDATE ZOOM GRAPHIC
http://dlvr.it/SyMjnl