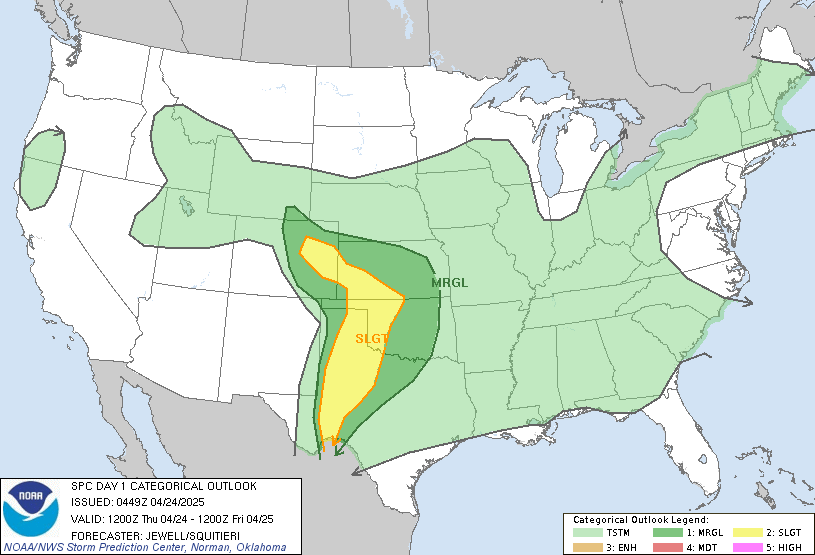 LIVE MAP (ABOVE) ... SPC 1200Z Day 1 Outlook
Day 1 Convective Outlook
NWS Storm Prediction Center Norman OK
1130 PM CST Mon Nov 13 2023
Valid 141200Z - 151200Z
...NO SEVERE THUNDERSTORM AREAS FORECAST...
...SUMMARY...
Some thunder potential will exist along the central Gulf Coast and
across south Florida.
...Central Gulf Coast/South Florida...
Short-wave trough currently located over TX will dig southeast into
the lower MS Valley/northern Gulf region by 15/00z, then deepen a
bit during the overnight hours as it advances slowly toward the
eastern Gulf Basin. In response to this feature, a notable surface
low will strengthen/deepen over the central Gulf which will maintain
offshore flow along the central Gulf Coast, and deep easterly flow
across the FL Peninsula. A strong baroclinic zone will evolve across
this region and a considerable amount of convection should develop
over the Gulf of Mexico where significant buoyancy/shear will be in
place for organized convection. However, weak instability will
preclude strong convection inland, both along the central Gulf Coast
and south FL. Diurnal heating may contribute to deeper updrafts
capable of generating lightning across south FL; otherwise, any
thunderstorms across southeast LA into the western FL Panhandle
should be more elevated in nature as warm advection dominates this
region.
..Darrow/Moore.. 11/14/2023
Read more CHECK UPDATE ZOOM GRAPHIC
http://dlvr.it/SypJXT