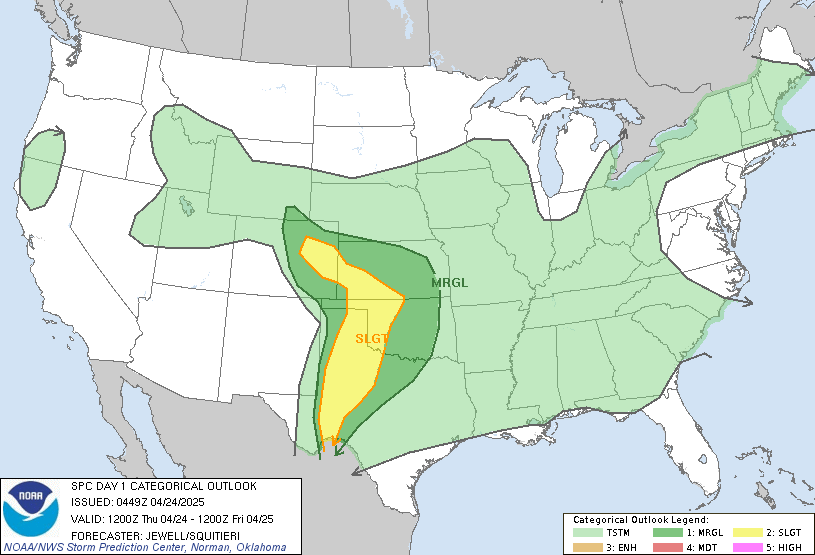 LIVE MAP (ABOVE) ... SPC 1200Z Day 1 Outlook
Day 1 Convective Outlook
NWS Storm Prediction Center Norman OK
1145 PM CST Fri Nov 17 2023
Valid 181200Z - 191200Z
...NO SEVERE THUNDERSTORM AREAS FORECAST...
...SUMMARY...
Severe thunderstorms are unlikely today.
...Synopsis...
An amplified yet progressive upper-air pattern will exist today
across the CONUS. A mean upper trough will develop over the eastern
states, with southern and northern stream phasing from New England
to FL. The cooling aloft across FL could yield a few showers or
thunderstorms grazing the eastern coastal areas, but most of the
activity is expected to remain offshore. However, northwest surface
winds may enhance convergence immediately along the coast and an
isolated cell cannot be ruled out. The greatest chance of
thunderstorms will develop throughout the period, from parts of the
southwest into the southern and central High Plains.
...Southwest/Southern Plains...
Height falls will occur over the Four Corners states during the day
as a low-amplitude wave enters the southern High Plains late. Storms
will be ongoing over AZ this morning, with additional midlevel
moistening and lift spreading over NM. Diurnal heating will lead to
a few hundred J/kg MUCAPE during the day, with perhaps 500 J/kg of
elevated CAPE into KS/OK/northwest TX overnight as a low-level jet
strengthens.
Forecast sounding over NM and western TX do show long hodographs and
strong deep-layer shear. This may actually reduce damaging gust
potential as storm mode trends toward cellular with strong storm
relative flow aloft removing potential downdraft material. Assuming
a cellular mode, the primary risk typically trends toward hail, but
instability will be relatively weak in this case. The end result
should be scattered storms capable of perhaps strong gusts or small,
non-severe hail, and little severe risk.
..Jewell/Lyons.. 11/18/2023
Read more CHECK UPDATE ZOOM GRAPHIC
http://dlvr.it/Sz05hL