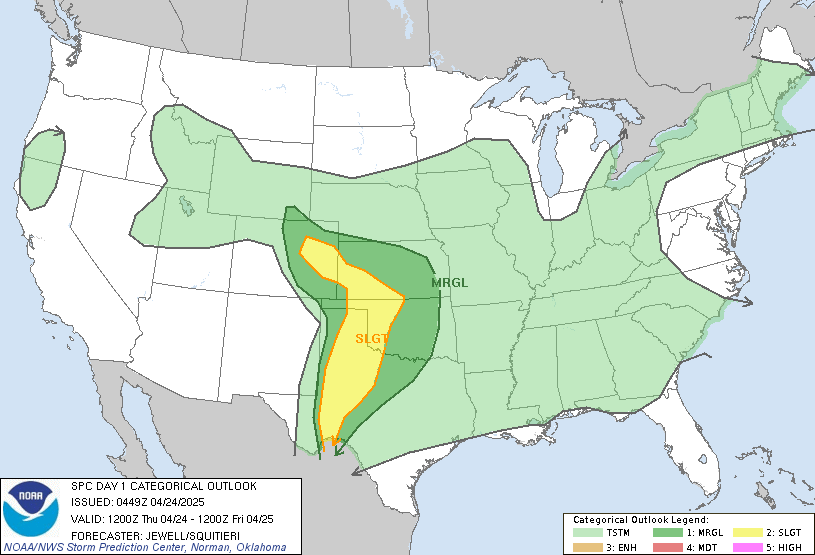 LIVE MAP (ABOVE) ... SPC 1200Z Day 1 Outlook
Day 1 Convective Outlook
NWS Storm Prediction Center Norman OK
1136 PM CST Fri Nov 10 2023
Valid 111200Z - 121200Z
...NO SEVERE THUNDERSTORM AREAS FORECAST...
...SUMMARY...
A few lightning flashes will be possible across portions of northern
Washington state, and near the central Gulf Coast area.
...Discussion...
Threat for lightning is negligible across most of the CONUS
Saturday. The only exceptions are near the central Gulf Coast and
over parts of northern WA. In both of these areas lightning should
still be quite sparse.
Strong 500mb speed max will translate across WA early in the period
before the associated short-wave trough advances into the northern
Rockies later in the afternoon. Steeping lapse rates north of this
jet and cooling thermodynamic profiles will lead to weak buoyancy
primarily during the first half of the period. Scattered low-topped
convection will develop along the front, and within the post-frontal
air mass. Forecast soundings suggest the most robust updrafts could
penetrate levels required for a few flashes of lightning.
Farther south along the Gulf Coast, scattered weak convection should
be noted at times within a broad zone of weak warm advection. A few
hundred J/kg of MUCAPE may develop if lifting parcels around 1 km
AGL; however, most updrafts will struggle to attain heights
necessary for lightning. Even so, an isolated thunderstorm or two
can not be ruled out from southeast LA toward the western FL
Panhandle.
..Darrow/Moore.. 11/11/2023
Read more CHECK UPDATE ZOOM GRAPHIC
http://dlvr.it/SyhPjt