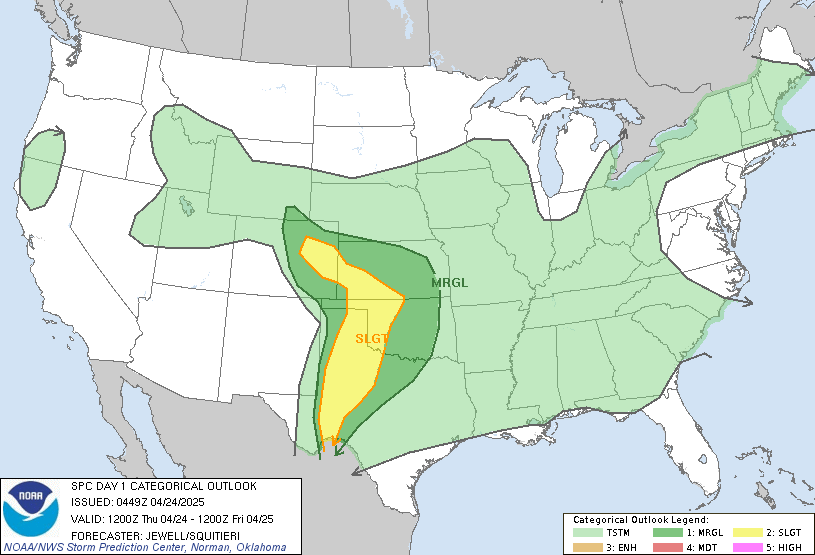 LIVE MAP (ABOVE) ... SPC 1200Z Day 1 Outlook
Day 1 Convective Outlook
NWS Storm Prediction Center Norman OK
1235 AM CDT Sat Oct 07 2023
Valid 071200Z - 081200Z
...NO SEVERE THUNDERSTORM AREAS FORECAST...
...SUMMARY...
Severe thunderstorms are not expected on Saturday.
...Discussion...
Early-morning water-vapor imagery depicts a strong upper trough
advancing east-southeast across the Great Lakes, in line with latest
model guidance. Strong mid-level height falls (120-180m in 12hr)
will overspread the middle Atlantic region into New England ahead of
this feature. Elsewhere, strong surface anticyclone will overspread
much of the middle of the CONUS with offshore flow prevailing over
all but the southern tip of FL.
Cold temperatures and steep lapse rates will spread across the lower
Great Lakes region later today. Resultant thermodynamic profiles
will become favorable for weak convection in the lee of the lakes
across this region. Otherwise, weak pre-frontal convection appears
possible from NJ into upstate NY, and within warm advection corridor
downstream over ME later in the period.
A few thunderstorms may also develop ahead of the aforementioned
cold front across south FL prior to the main zone of low-level
confluence shifting offshore.
Strong boundary-layer heating across the southwestern US will result
in steep lapse rates beneath large-scale ridging. Relatively dry
conditions across this region will limit bouyancy. However,
marginal moisture and instability will support isolated thunderstorm
potential from parts of southwestern CO to southern AZ.
..Darrow/Weinman.. 10/07/2023
Read more CHECK UPDATE ZOOM GRAPHIC
http://dlvr.it/Sx6SQG