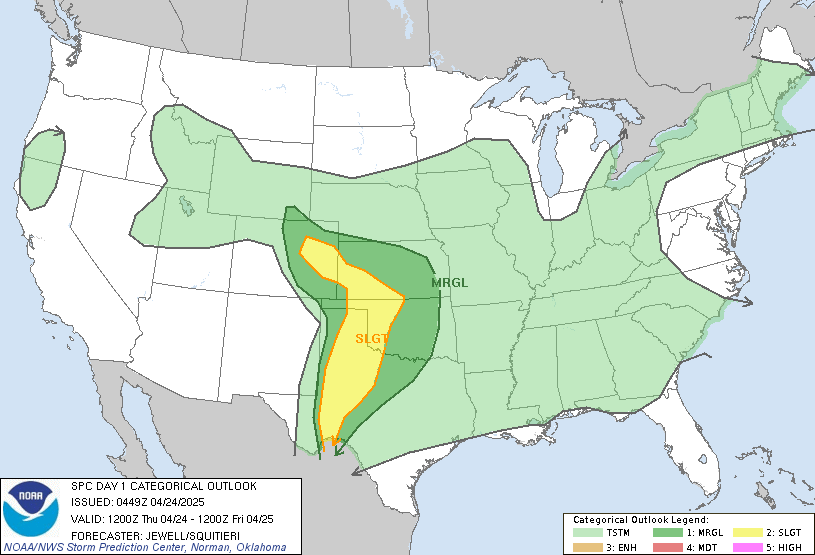 LIVE MAP (ABOVE) ... SPC 1200Z Day 1 Outlook
Day 1 Convective Outlook
NWS Storm Prediction Center Norman OK
1236 AM CDT Tue Oct 10 2023
Valid 101200Z - 111200Z
...NO SEVERE THUNDERSTORM AREAS FORECAST...
...SUMMARY...
Severe thunderstorms are not expected on Tuesday.
...Discussion...
Large-scale mid-level height falls are forecast across the
northwestern US during the day1 period as a strong 500mb jet digs
toward northern CA late in the period. Downstream upper ridge that
has dominated the southwestern US is breaking down and will be
shunted east into the Plains.
Isolated-scattered convection should develop ahead of the western US
trough, primarily across the northern Rockies. It appears sufficient
buoyancy will exist across this region for at least some risk for
lightning.
Weak southern-stream short-wave trough will eject across NM into the
southern High Plains, along with substantial mid-level cooling.
Strong surface heating/steep lapse rates will lead to an uncapped
environment that should support a few thunderstorms across this
region.
Latest NAM guidance suggests LLJ will strengthen markedly during the
latter half of the period across the central Plains. Strengthening
corridor of low-level warm advection will evolve north of a warm
front, primarily across the lower MO Valley. Forecast soundings
suggest parcels lifted near 800mb will be uninhibited, and modest
buoyancy is expected to support elevated thunderstorms. A few robust
updrafts could generate small hail but large hail is not currently
expected.
Remnants of Hurricane Lidia are forecast to spread across Mexico
late in the period. As this feature spreads northeast, NAM is the
most aggressive model inducing significant surface development just
southeast of BRO by 11/12z, while GFS is considerably offshore with
this feature. Surface cyclone position will influence thunder
potential across deep South TX late in the period. While forecast
wind profiles/shear increase significantly with the near-land
surface development, at this time severe probabilities will not be
introduced due to uncertainly in low development.
..Darrow/Weinman.. 10/10/2023
Read more CHECK UPDATE ZOOM GRAPHIC
http://dlvr.it/SxDTmp