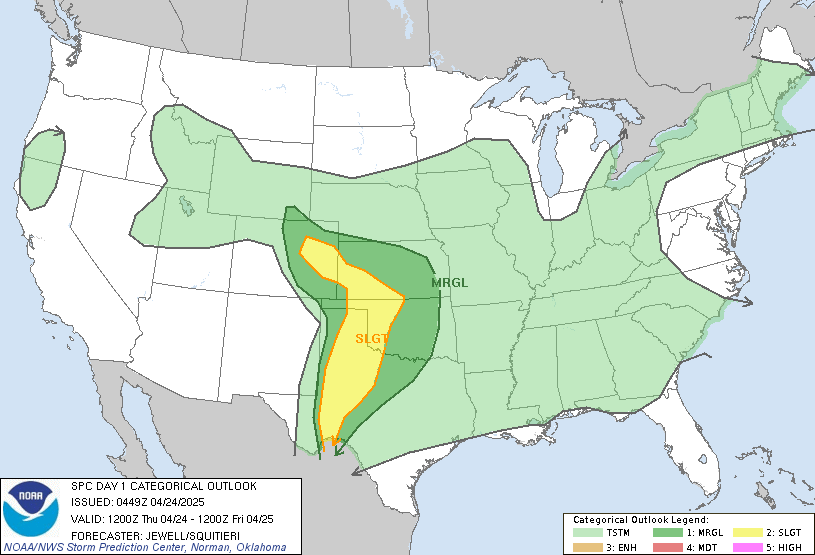 LIVE MAP (ABOVE) ... SPC 1200Z Day 1 Outlook
Day 1 Convective Outlook
NWS Storm Prediction Center Norman OK
1234 AM CDT Thu Oct 05 2023
Valid 051200Z - 061200Z
...NO SEVERE THUNDERSTORM AREAS FORECAST...
...SUMMARY...
The severe-thunderstorm threat appears low on Thursday.
...Synopsis...
An outflow-reinforced surface cold front is forecast to continue
shift southward across Texas, and southeastward across the western
Gulf and central Gulf Coast region. This frontal progression will
occur as a mid-level short-wave trough advances southeastward across
the southern Plains and Lower Mississippi Valley area toward the
northern Gulf of Mexico.
Farther north, a second cold front is progged to move eastward out
of the northern Plains and across the Great Lakes, while sagging
southeastward across the Mid-Mississippi Valley and central Plains
through the period. This front will progress in conjunction with an
evolving/strengthening upper trough moving slowly eastward across
the Canadian Prairie, and the adjacent north-central CONUS.
As the southern front advances, warm/moist air will be gradually
suppressed southward, along with the remaining zone of appreciable
CAPE. Thunderstorms -- ongoing at the start of the period across
portions of Texas and portions of Louisiana -- may remain locally
vigorous, and a marginal severe report cannot be ruled out through
the first half of the period as this convection advances steadily
southward and eventually vacates Texas. However, an increasingly
anafrontal scenario is expected to evolve with time, with convection
largely occurring to the cool side of the front. As such, severe
risk should remain minimal -- too low to introduce MRGL risk.
Elsewhere, showers and thunderstorms are expected along the northern
front -- from the Great Lakes to the Ozarks -- through the day, but
weak instability suggests sub-severe convection. Showers and a few
thunderstorms are also expected across portions of Florida and the
southeastern U.S. coast, but weak flow and modest CAPE should prove
insufficient to support stronger storms.
..Goss/Lyons.. 10/05/2023
Read more CHECK UPDATE ZOOM GRAPHIC
http://dlvr.it/Sx1XB1