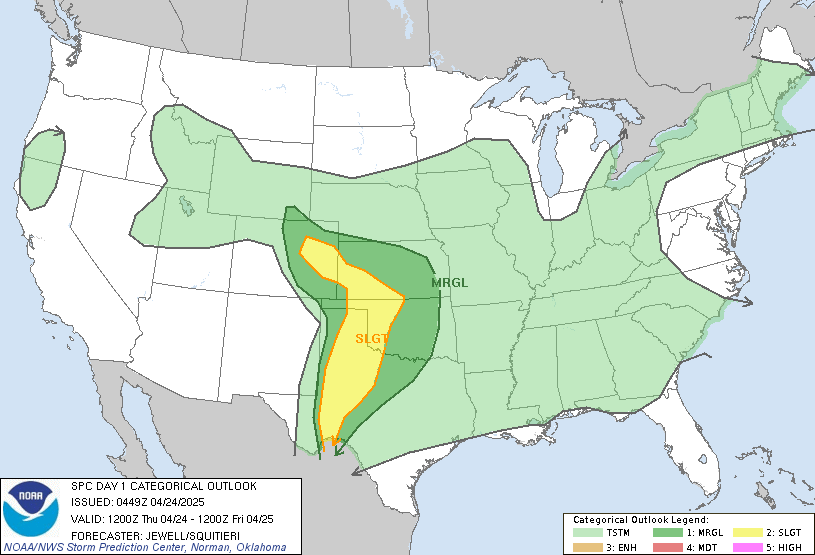 LIVE MAP (ABOVE) ... SPC 1300Z Day 1 Outlook
Day 1 Convective Outlook
NWS Storm Prediction Center Norman OK
0744 AM CDT Sun Oct 01 2023
Valid 011300Z - 021200Z
...THERE IS A MARGINAL RISK OF SEVERE THUNDERSTORMS THIS AFTERNOON
THROUGH LATE EVENING ACROSS EASTERN NM...
...SUMMARY...
Isolated large hail and strong-severe outflow gusts will be possible
this afternoon through late evening across eastern New Mexico.
...Synopsis...
Around the periphery of a closed low over NV, one embedded shortwave
trough will rotate northward today over southeast ID and weaken,
while an upstream speed max translates from southern CA to AZ. East
of the midlevel low, a deep band of south-southwesterly flow will
persist from NM to the northern High Plains. A lee cyclone is
expected in the vicinity of southeast WY and a weak lee trough will
extend southward to NM. A slow-moving cold front will extend
north-northeastward from the lee cyclone into the western Dakotas by
tonight.
...Eastern NM area this afternoon/evening...
Overnight convection has dissipated across the southern High Plains
and surface heating is expected through the afternoon in cloud
breaks. A continued feed of boundary-layer dewpoints in the 50s to
low 60s into eastern NM will combine with daytime heating to produce
MLCAPE values of 1500-2000 J/kg this afternoon. Scattered
thunderstorm development will occur immediately east of the higher
terrain by early-mid afternoon and storms will persist through late
evening. Deep-layer vertical shear will be rather modest this far
east (effective bulk shear of 25-30 kt), but there will be some
increase in hodograph curvature this evening. The net result will
be the potential for a few multicell clusters and/or supercells
capable of producing isolated large hail and strong-severe outflow
gusts for several hours later this afternoon through late evening.
...Northern High Plains through tonight...
A corridor of near 60 F boundary-layer dewpoints is present across
ND this morning, though this area will largely remain capped through
the period. Somewhat lesser moisture (dewpoints in the 40s to low
50s) resides farther south into the central High Plains. As such,
buoyancy will be somewhat limited today across the northern High
Plains, with the only shallow ascent expected atop the surface cold
front. The combination of an anafrontal regime with minimal warm
sector ascent and rather weak deep-layer shear suggests that severe
storms are unlikely.
..Thompson/Leitman.. 10/01/2023
Read more CHECK UPDATE ZOOM GRAPHIC
http://dlvr.it/SwrSvD