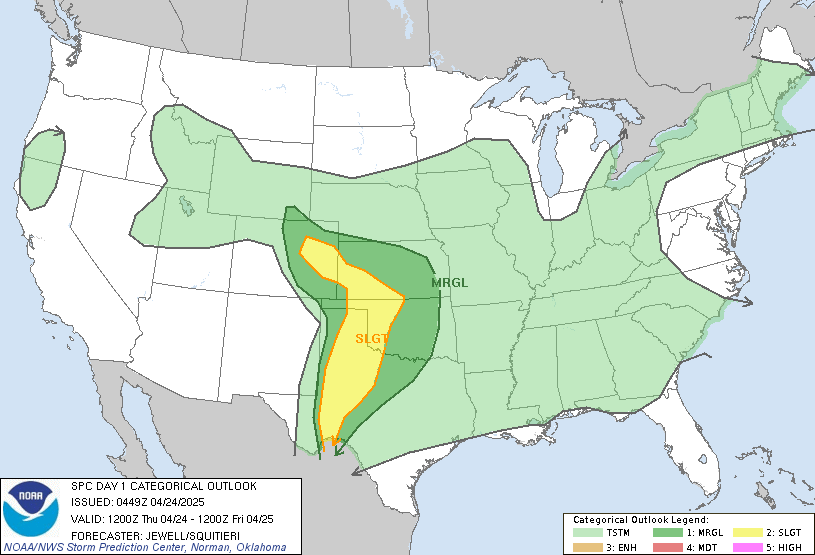 LIVE MAP (ABOVE) ... SPC 1200Z Day 1 Outlook
Day 1 Convective Outlook
NWS Storm Prediction Center Norman OK
1152 PM CDT Sun Oct 29 2023
Valid 301200Z - 311200Z
...NO SEVERE THUNDERSTORM AREAS FORECAST...
...SUMMARY...
Severe thunderstorms are not expected today.
...Synopsis...
Broad cyclonic mid-level flow will overspread much of the CONUS
today as an embedded but pronounced mid-level trough ejects over the
Northern Plains from the Canadian Prairies, amplifying in the
process. As a result, a weak surface low will develop over the Great
Lakes region while surface high pressure and associated cooler
temperatures overspread the rest of the CONUS, introducing static
stability and negligible thunderstorm potential. Over the Great
Lakes, surface temperatures just above freezing may allow for the
intake of enough liquid droplets, that combined with steep
surface-700 mb lapse rates, may promote a couple of lightning
flashes with any low-topped convection that can develop.
..Squitieri.. 10/30/2023
Read more CHECK UPDATE ZOOM GRAPHIC
http://dlvr.it/Sy7Jn0