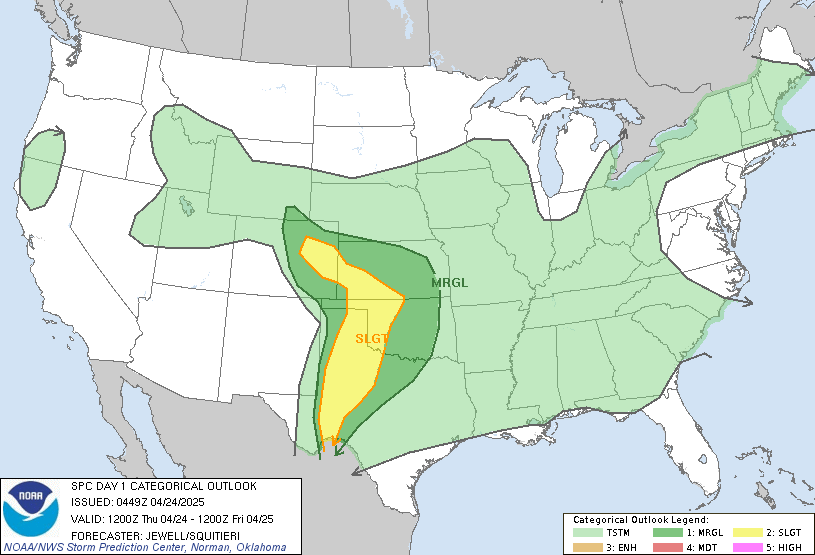 LIVE MAP (ABOVE) ... SPC 1300Z Day 1 Outlook
Day 1 Convective Outlook
NWS Storm Prediction Center Norman OK
0742 AM CDT Mon Oct 30 2023
Valid 301300Z - 311200Z
...NO THUNDERSTORM AREAS FORECAST...
...SUMMARY...
Areas of thunderstorms are not expected today.
...Synopsis/Discussion...
In mid/upper levels, a positively tiled mean trough will shift
eastward across the central/southwestern CONUS through the period.
This will occur largely in response to a strong shortwave trough --
apparent in moisture-channel imagery over portions of AB/SK. This
perturbation will dig southeastward by 00Z to the Dakotas,
northwestern MN and adjoining northwestern ON. As the trough
proceeds overnight toward northwestern MO, IA and WI, an
accompanying 500-mb low should form, reaching the LSE area around
the end of the period.
All of that will occur well behind a surface cold front, analyzed at
11Z this morning from the Mid-Atlantic region southwestward over the
southern Appalachians to the northwestern Gulf. By 00Z, the front
should extend from the Hampton Roads region across central GA, the
FL Panhandle and the central/southwestern Gulf. By 12Z tomorrow, it
should be offshore all except peninsular FL, where northerly surface
flow will develop on both sides (minimizing frontal lift).
Through the period, the showery convective regime in the northern
Upper Great Lakes will evolve from one driven largely by steep lapse
rates -- compelled by post-frontal cold advection atop relatively
high theta-e of the near-lake-surface layer -- to a hybrid of that
with a warm-advection conveyor around the poleward sector of the
cyclonic shortwave circulation. Forecast soundings periodically
have indicated CAPE (generally less than 200 J/kg) extending into
favorable icing layers for lightning for valid times up to now,
without lightning detected. They continue to do so episodically
through tonight; however, weak overall lift and lack of stronger
inflow-layer theta-e also should continue to limit realization of
that potential. While isolated flashes still cannot be ruled out,
overall coverage appears to be less than 10% for the period over the
region.
..Edwards/Goss.. 10/30/2023
Read more CHECK UPDATE ZOOM GRAPHIC
http://dlvr.it/Sy83qq