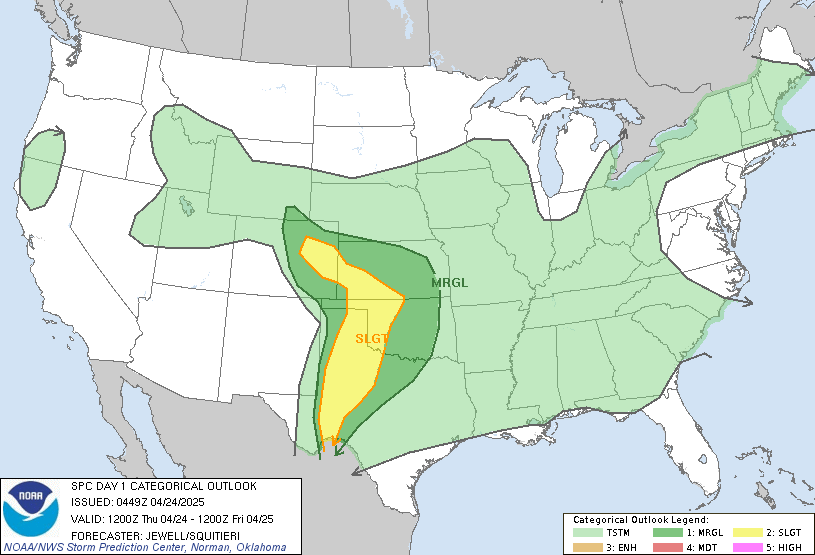 LIVE MAP (ABOVE) ... SPC 1200Z Day 1 Outlook
Day 1 Convective Outlook
NWS Storm Prediction Center Norman OK
1252 AM CDT Sat Oct 28 2023
Valid 281200Z - 291200Z
...THERE IS A MARGINAL RISK OF SEVERE THUNDERSTORMS FAR SOUTHEAST
NEW MEXICO...WEST TEXAS...
...SUMMARY...
An isolated risk for severe thunderstorms may develop late this
afternoon into the evening over parts of southeast New Mexico and
west Texas.
...Synopsis...
A large-scale, positively tilted mid to upper-level trough will
reside over the West into the central states, while an upper ridge
persists from the Gulf of Mexico into parts of the Southeast. While
modest low-level moisture will extend into parts of northern New
England in advance of a cold front, weak lapse rates/instability
should limit the potential for deep convection in this area, though
a few gusty showers will be possible along the front. Farther
southwest, the front is forecast to become nearly stationary from
the Ohio Valley into the southern Great Plains, with weak convection
possible along/north of the front through the day/evening.
...Southeast NM/west TX...
To the immediate south of trailing portion of the front over the
southern Great Plains, east-southeasterly low-level flow will
maintain/advect relatively rich moisture across the Trans-Pecos and
Permian Basin. Model guidance continues to indicate the front
becoming stationary during the late morning and advancing slightly
northward into the Permian Basin during the day. Ample heating will
support MLCAPE increasing to 1000-1500 J/kg along and to the warm
side of the boundary, with relatively strong deep-layer shear
potentially supporting a supercell or two. The main limiting factor
continues to be weak large-scale ascent during the diurnal heating
cycle. Nonetheless, the latest simulated storm-scale guidance
suggests the possibility for an isolated supercell risk and
associated hail hazard, beginning perhaps during the late
afternoon/early evening and persisting for a few hours.
..Smith/Squitieri.. 10/28/2023
Read more CHECK UPDATE ZOOM GRAPHIC
http://dlvr.it/Sy3mk0