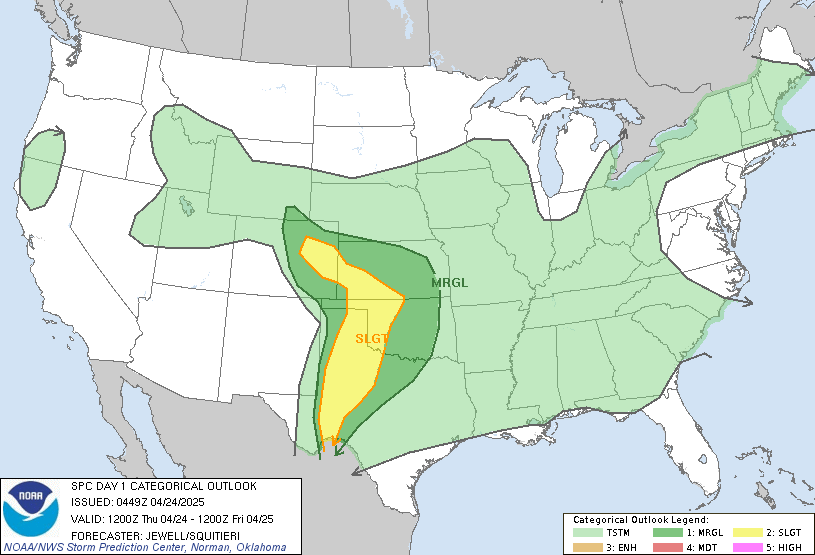 LIVE MAP (ABOVE) ... SPC 1200Z Day 1 Outlook
Day 1 Convective Outlook
NWS Storm Prediction Center Norman OK
1241 AM CDT Fri Oct 27 2023
Valid 271200Z - 281200Z
...NO SEVERE THUNDERSTORM AREAS FORECAST...
...SUMMARY...
Severe thunderstorms are not forecast through tonight.
...Synopsis...
Strong cyclonic mid-level flow will extend from the eastern Pacific,
through the western states, and east-northeast into the Midwest. A
potent mid-level disturbance will quickly move from the Upper
Midwest northeastward into Ontario/Quebec, while an upstream trough
digs into the northern Rockies. A surface low initially near Lake
Superior during the morning will develop northeast into northern
Quebec during the period. A trailing cold front will move east
across much of the Midwest and push south into central TX.
A seasonably moist airmass will protrude northeastward from the
Arklatex to the central Great Lakes---featuring 70s dewpoints south
and upper 50s to lower 60s north. Heating of the moist boundary
layer during the day will result in MLCAPE around 500 J/kg over
Lower MI. However, upper forcing for ascent will become
increasingly displaced from Lower MI/southern Great Lakes during the
day. The overall weakening large-scale support will probably limit
thunderstorm coverage and intensity over Lower MI into the southern
Great Lakes. The latest CAMs show different possible solutions,
particularly in coverage/intensity of storms (i.e., 00z HRRR being
the most aggressive). Given the majority of CAMs indicate limited
potential, will defer the introduction of low-severe probabilities
this outlook update. Farther south, scattered storm development is
forecast near the front over north TX southward into the Hill
Country. Severe weather is not expected with this activity.
..Smith/Squitieri.. 10/27/2023
Read more CHECK UPDATE ZOOM GRAPHIC
http://dlvr.it/Sy1Nhn