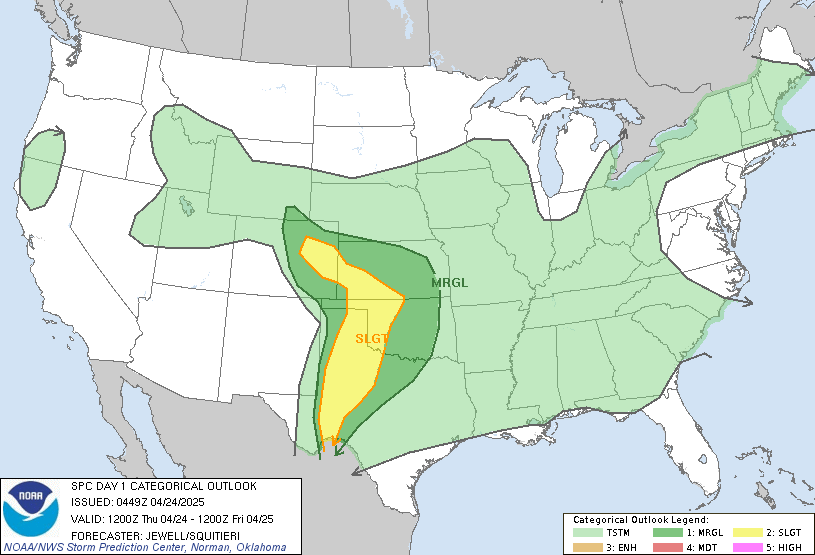 LIVE MAP (ABOVE) ... SPC 1200Z Day 1 Outlook
Day 1 Convective Outlook
NWS Storm Prediction Center Norman OK
1250 AM CDT Thu Oct 26 2023
Valid 261200Z - 271200Z
...NO SEVERE THUNDERSTORM AREAS FORECAST...
...SUMMARY...
Severe thunderstorms are not forecast through tonight.
...Synopsis...
A deep mid/upper-level longwave trough will reside across
most of the central/western CONUS during the period. A mid-level
disturbance/speed max initially over eastern KS/OK will quickly move
northeast during the day and weaken, reaching the southern Great
Lakes by evening. A stronger upstream shortwave trough will move
from the central/northern Rockies into the northern Great Plains. A
cold front will move through parts of the central Great Plains
during the day, and across parts of the Upper Midwest, mid/upper MS
Valley, and into OK tonight.
Model guidance indicates a convective band will likely be ongoing
this morning across portions of central TX northeastward towards the
Arklatex within a moist low-level environment. Another area for
thunderstorm development will seemingly concentrate over the mid MS
Valley in association with a strong southwesterly LLJ. Modestly
favorable deep-layer flow/shear could support some loosely organized
convective bands across those areas, but generally weak midlevel
lapse rates and buoyancy are currently expected to limit
severe-thunderstorm potential.
..Smith/Wendt.. 10/26/2023
Read more CHECK UPDATE ZOOM GRAPHIC
http://dlvr.it/SxymK8