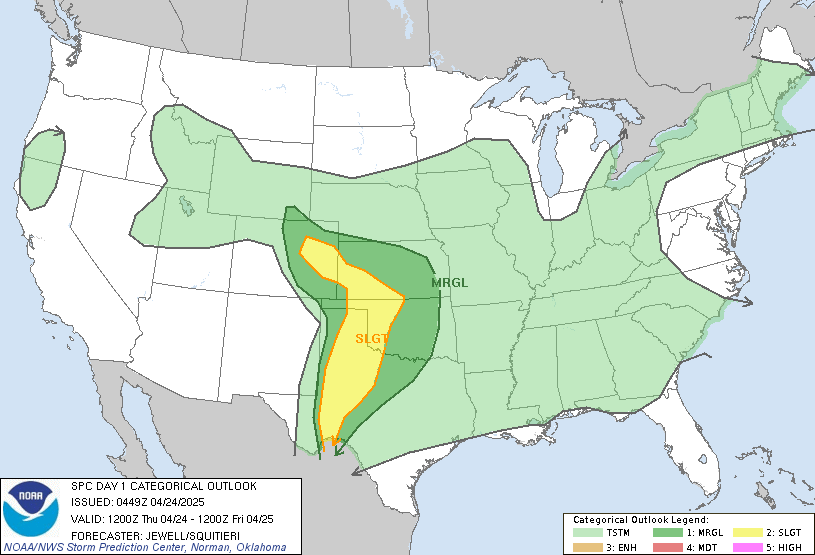 LIVE MAP (ABOVE) ... SPC 1200Z Day 1 Outlook
Day 1 Convective Outlook
NWS Storm Prediction Center Norman OK
1258 AM CDT Sun Oct 01 2023
Valid 011200Z - 021200Z
...THERE IS A MARGINAL RISK OF SEVERE THUNDERSTORMS ACROSS PARTS OF
THE HIGH PLAINS AND ROCKIES...
...SUMMARY...
Scattered thunderstorms, capable of isolated large hail and severe
wind gusts, will be possible in the southern High Plains this
afternoon and evening. In addition, a few severe storms capable of
hail or gusty winds may develop this evening into tonight over the
northern High Plains.
...Southern Rockies/Southern High Plains...
An upper-level system will move slowly across the Intermountain West
today as mid-level flow remains from the south-southwest across the
southern Rockies and southern High Plains. A south-to-north belt of
strengthening low-level flow will help maintain moisture advection
in the southern High Plains, where surface dewpoints are forecast to
be from 55 to 60 F in many areas. As surface heating takes place, a
pocket of moderate instability is forecast to develop in eastern New
Mexico and from west Texas into the western Texas Panhandle.
Scattered thunderstorms are expected to form within this pocket of
instability as surface temperatures warm in the afternoon. RAP
forecast soundings at 21Z have a thermodynamic and kinematic profile
supportive of rotating storms, with MLCAPE near 2000 J/kg and 0-6 km
shear of 35 to 40 knots. This will likely be enough for isolated
large hail and marginally severe winds, mainly with the strongest of
cells during the late afternoon and early evening.
...Northern High Plains...
South-southwesterly mid-level flow will be in place today across
much of the High Plains. As a result, low-level moisture advection
will be maintained across the region. Surface dewpoints are forecast
to be in the 50s F over much of the northern High Plains, where
moderate instability is expected to develop by late afternoon.
Isolated thunderstorms will be possible from this evening into the
overnight period as low-level flow strengthens across the High
Plains. Forecast soundings near Rapid City at 06Z show MLCAPE around
1500 J/kg, with 700 to 500 mb lapse rates approaching 9 C/km. In
addition, some forecast soundings have moderate deep-layer shear.
This environment could support a marginal severe threat, with hail
and isolated strong wind gusts being the primary hazards.
..Broyles/Lyons.. 10/01/2023
Read more CHECK UPDATE ZOOM GRAPHIC
http://dlvr.it/SwqyfT