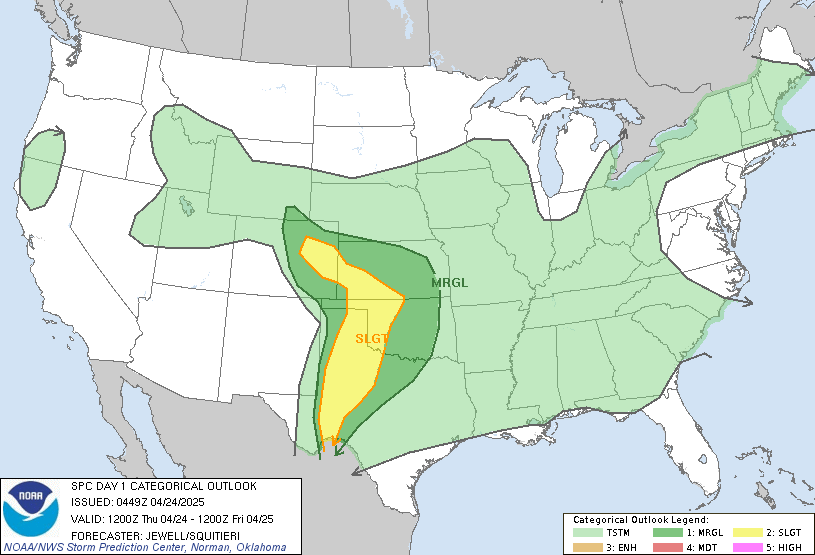 LIVE MAP (ABOVE) ... SPC 1300Z Day 1 Outlook
Day 1 Convective Outlook
NWS Storm Prediction Center Norman OK
0715 AM CDT Fri Sep 29 2023
Valid 291300Z - 301200Z
...THERE IS A MARGINAL RISK OF SEVERE THUNDERSTORMS THOUGHT TONIGHT
FROM EASTERN SD INTO MN...
...SUMMARY...
Isolated large hail and strong-severe gusts will be possible from
eastern South Dakota into Minnesota this morning through tonight.
...Eastern SD into MN through tonight...
No substantial changes to the prior outlook. In association with an
ejecting midlevel shortwave trough, elevated convection will
continue to spread northeastward this morning from northeast SD
toward northern MN. The convection appears to be rooted close to
700 mb, along the northwest edge of the steeper midlevel lapse
rates, where MUCAPE is near 1000 J/kg. There is sufficient
cloud-layer shear/hodograph length for a small cluster capable of
producing large hail near 1 inch diameter this morning. Strong
outflow winds will also be possible, though the potential for
damaging/severe winds at the surface will be limited by a relatively
deep stable layer below the 700 mb level.
In the wake of the morning convection with the midlevel trough,
gradual midlevel height rises are expected atop a slow-moving
baroclinic zone from southwest into east central MN.
Afternoon/evening convection will rely on shallow ascent along the
front in conjunction with surface heating/deep mixing to remove
convective inhibition. If storms form later this afternoon along
the front, the environment will conditionally favor a supercell or
two capable of producing large hail and strong outflow gusts.
Otherwise, low-level warm advection will increase this evening into
early tonight on the nose of a strengthening low-level jet, which
will support additional elevated storm development with the
potential for isolated large hail.
..Thompson/Leitman.. 09/29/2023
Read more CHECK UPDATE ZOOM GRAPHIC
http://dlvr.it/SwmRQv