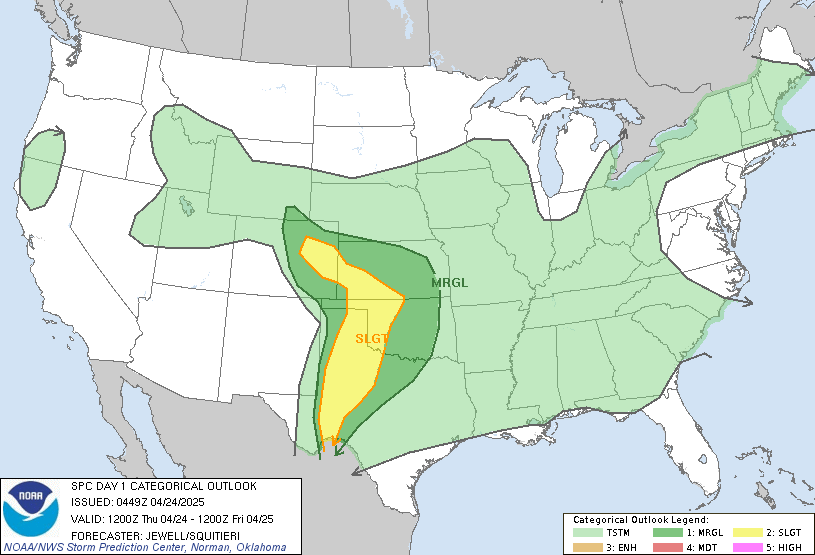 LIVE MAP (ABOVE) ... SPC 1200Z Day 1 Outlook
Day 1 Convective Outlook
NWS Storm Prediction Center Norman OK
1228 AM CDT Fri Sep 29 2023
Valid 291200Z - 301200Z
...THERE IS A MARGINAL RISK OF SEVERE THUNDERSTORMS FOR PARTS OF THE
UPPER MISSOURI VALLEY INTO MINNESOTA...
...SUMMARY...
Scattered storms may produce hail or isolated severe gusts over
parts of the Upper Missouri Valley into Minnesota today.
...Synopsis...
Weak upper-level troughing will move through the Mid-Atlantic and
southern New England this afternoon as well as northern/central
Florida late in the period. In the northern Plains, a relatively
strong upper-level shortwave will lift northeast through the eastern
Dakotas and northern/central Minnesota early in the day. In its
wake, upper-level ridging will increase within the
Mississippi/Missouri Valleys. Farther west, an upper trough will
deepen and dig into California and the western Great Basin.
Thunderstorms are probable in parts of the Mid-Atlantic and Florida.
Weak shear and relatively poor lapse rates should keep the potential
for severe weather low.
...Parts of Upper Missouri Valley into Minnesota...
Convection is likely to occur early in the day as the shortwave
trough moves through the region and low-level warm advection remains
strong. The strongest of these elevated storms would be capable of
marginally severe hail given deep-layer shear of 35-40 kts and
sufficient MUCAPE (generally 1000-1500 J/kg). A strong wind gust
would be possible, but low-level stability should keep such activity
quite isolated.
Later into the afternoon/early evening, additional storm development
is possible along either the cold front or effective warm
front/composite outflow. Several factors contribute to the
uncertainty in this scenario. First, the shortwave trough will be
moving away and modest height rises aloft will be occurring during
the afternoon. Second, warm air around 800 mb was present on the 00Z
observed ABR and MPX soundings. This is at least somewhat present on
forecast sounding for this afternoon. That being said, areas of
heating near the surface boundaries may be enough to initiate
isolated to potentially widely scattered storms. Some development
would also be possible as a modest low-level jet develops during the
early evening. Should storms form, shear, though weaker than earlier
in the day, will be sufficient for marginal supercell structures.
Marginally severe hail and damaging winds would be the primary
threats. Low-level flow/shear will remain weak with only modest
enhancement expected during the early evening. By that time,
however, storms are much less likely to be surface-based.
..Wendt/Lyons.. 09/29/2023
Read more CHECK UPDATE ZOOM GRAPHIC
http://dlvr.it/SwlgbW