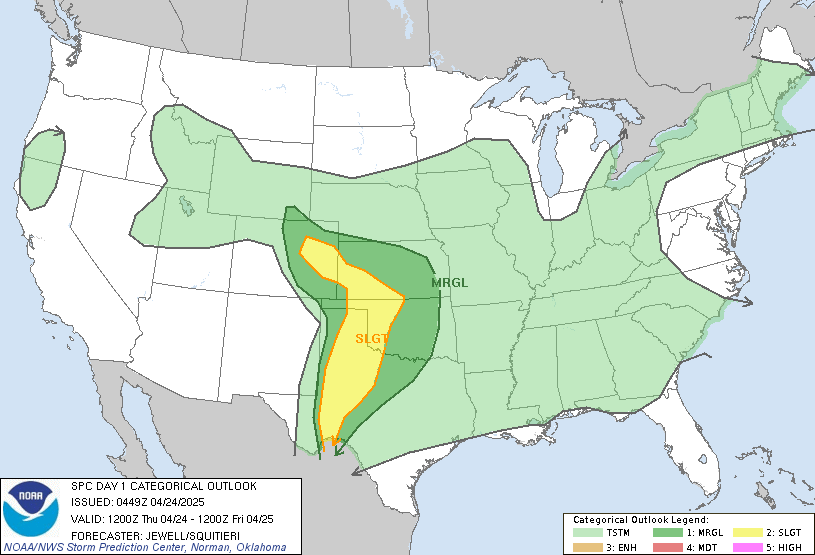 LIVE MAP (ABOVE) ... SPC 1300Z Day 1 Outlook
Day 1 Convective Outlook
NWS Storm Prediction Center Norman OK
0733 AM CDT Wed Sep 27 2023
Valid 271300Z - 281200Z
...THERE IS A SLIGHT RISK OF SEVERE THUNDERSTORMS LATE THIS
AFTERNOON INTO TONIGHT ACROSS PARTS OF SOUTHERN ILLINOIS...SOUTHERN
INDIANA...WESTERN AND NORTH CENTRAL KENTUCKY...
...SUMMARY...
Scattered strong thunderstorms may impact parts of the lower Ohio
Valley today into tonight, and pose some risk for severe weather.
...Synopsis...
A vigorous mid-level short wave trough progressing inland of the
Pacific Northwest coast is forecast to continue an
east-northeastward progression today through tonight, across the
northern U.S. Rockies into the Saskatchewan/Montana border vicinity
by 12Z Thursday. As this occurs, downstream blocking mid-level
ridging, initially centered along an axis south of Hudson Bay into
the St. Lawrence Valley vicinity, may undergo more notable
suppression by tonight, and a modest mid-level low to its southwest
may slowly accelerate eastward across southwestern portions of the
Great Lakes region.
In lower-levels, sprawling surface ridging, centered over Quebec,
will maintain considerable influence across the U.S., from the
Atlantic Seaboard into the Great Plains. However, broad weak
surface troughing will continue to be supported beneath the southern
periphery of the mid-level low, across the lower Missouri into Ohio
Valleys. Within this troughing, westward into the surface troughing
to the lee of the Front Range, one notable baroclinic zone will be
maintained. A weaker front likely will linger across northern
Florida and adjacent south Atlantic and Gulf coastal areas, with
high precipitable water content generally confined to areas along
and to its south, beneath broad troughing within a weak southern
branch of westerlies.
...Lower Ohio Valley vicinity...
Although generally south of the modest cold core (around or below
-14 C at 500 mb) of the slow moving mid-level low, it appears that
a gradual moistening of the boundary-layer may contribute to
destabilization with heating, along and south of the
quasi-stationary baroclinic zone. CAPE increasing to 1000-1500+
J/kg probably will initially be focused south through east of the
remnants of a cluster of storms now spreading across southern
Illinois into the lower Ohio Valley. While models suggest that this
convection will dissipate this morning, forcing for ascent
associated with a supporting mid-level jet streak (including 30-40
kt in the 700-500 mb layer) may contribute to renewed thunderstorm
development across the east central Kentucky Bluegrass into
Cumberland Plateau vicinity by mid afternoon. A couple of stronger
cells may be accompanied by small to marginally severe hail and
localized potentially damaging wind gusts, before the associated
forcing for ascent spreads into a more stable environment and/or
weakens.
In the wake of the initial perturbation, more substantive
boundary-layer destabilization (including CAPE increasing in excess
of 1000 J/kg) may commence along the baroclinic zone, east-southeast
of St. Louis through the Louisville vicinity from mid to late
afternoon into this evening. Preceding another mid-level jet streak
propagating east-southeastward out of the lower Missouri Valley, and
perhaps coinciding with a zone of strengthening low-level warm
advection to the east of a developing weak frontal wave, it is
possible that the environment may become conducive to the evolution
of a few supercell structures and/or a small organized thunderstorm
cluster.
..Kerr/Bentley.. 09/27/2023
Read more CHECK UPDATE ZOOM GRAPHIC
http://dlvr.it/SwgGzg