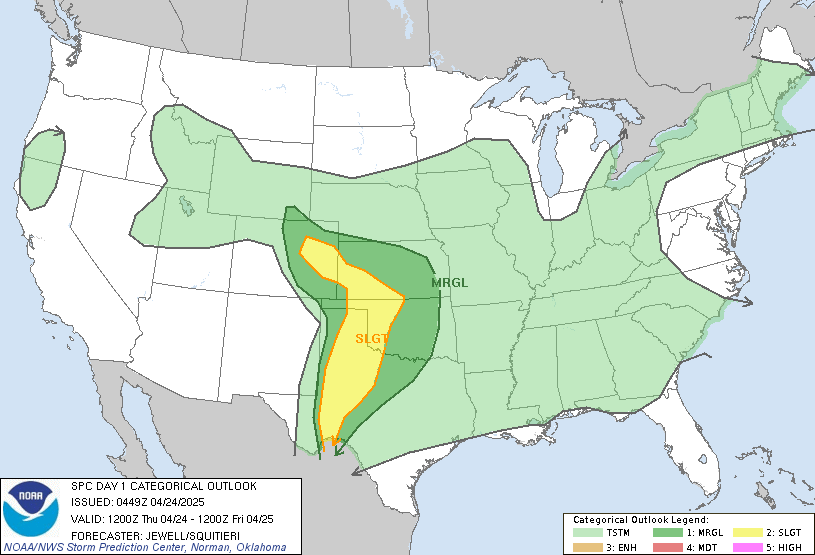 LIVE MAP (ABOVE) ... SPC 1200Z Day 1 Outlook
Day 1 Convective Outlook
NWS Storm Prediction Center Norman OK
1208 AM CDT Wed Sep 27 2023
Valid 271200Z - 281200Z
...THERE IS A SLIGHT RISK OF SEVERE THUNDERSTORMS OVER PORTIONS OF
FAR SOUTHEAST ILLINOIS...SOUTHERN INDIANA AND WESTERN/CENTRAL
KENTUCKY...
...SUMMARY...
Thunderstorms producing a strong gusts and hail will be possible
across parts of the Ohio Valley into Middle Tennessee through this
evening.
...Lower Ohio Valley Vicinity...
A weak upper low and attendant trough will shift slowly eastward
across the Midwest/Lower OH Valley vicinity through tonight.
Deep-layer flow will remain modest with this system, with generally
around 20-30 kt westerly flow from around 850mb through 500 mb.
however, vertically veering wind profiles will support about 30 kt
effective shear magnitudes. This should allow for a least some
transient organized thunderstorms today into this evening.
At the surface, a weak low over IL will shift east toward IN and a
warm front will arc east/southeast from roughly central IL into
southern IN. Ongoing convection and cloud cover this morning may
linger, through midday near/north of the OH River and also spread
east into eastern KY/southwest OH/eastern IN. This activity may pose
a low-end wind/hail risk while being somewhat elevated through the
morning. Clearing south of the warm front should support pockets of
heating from southern IL/southwest IN into western/central KY.
Surface dewpoints in the mid 60s and modest midlevel lapse rates
will contribute to MLCAPE values around 1000-1500 J/kg. Given
vertically veering wind profiles contributing to enlarged, curved
low-level hodographs, some potential for storm rotation/transient
supercells exists. Isolated large hail will be possible with this
activity during the late afternoon/evening. Steepening low-level
lapse rates also may support isolated strong/damaging gusts, with
some potential for clustering into the evening.
There is some uncertainty in how much inhibition may linger into
peak heating due to early cloud cover/convection. However, low-level
shear around 20-30 kt and effective SRH values around 200 m2/s2
suggest a tornado also could be possible with any supercell that
develops and can be maintained, especially near the warm front or
residual outflows. Though this risk appears to be rather
low/conditional at this time.
..Leitman.. 09/27/2023
Read more CHECK UPDATE ZOOM GRAPHIC
http://dlvr.it/SwfbL3